VISION
"Redefining Health Education Through Simulation Technology"
MISSION
To enhance the skill of Health Care providers towards mitigating health care needs using simulation technologies and improving clinical abilities by improved communication, attitude, and professional behavior.
OBJECTIVES
Establishment of cutting edge simulation technology.
Establishment of relevant academic courses and learning modules.
Training across all healthcare stakeholders including Doctors, Nurses and Paramedics, through virtual training technologies.
Enhancement of skills through training and activities by proficient SVL faculties. 
Collaborations with National and International eminent agencies.
Generation of knowledge through propagating research.
Who are we
Our top team consists of more than 15 professional academic members with backgrounds in health, patient experience, biomedical engineering, group dynamics, and adult learning. They ensure that each simulation is effective and suited to the individual.
The team's combined healthcare simulation experience is unrivalled, allowing it to deliver effective, extensive healthcare simulation using methodologies derived from a variety of disciplines and tailored to each group's level and background.
Accreditation :
We have AHA-certified Heart Saver, Basic Life Support, and Advanced Cardiac Life Support (BLS & ACLS,PALS) Provider and Instructor Courses with us.
Our offerings:
Clinical Skill Laboratory
Task Trainer Laboratory
Advanced Skill Laboratory
Clinical Skill Laboratory
In the medical graduate program, there is a strong need to focus on competency- based education blended with simulation training along with observable and measurable skill acquisition. A skill lab is a secure location where students can learn and practice clinical examination skills on manikins and standardized patients giving them a hybrid blend while being monitored and evaluated.
Task Trainer Laboratory
This aims to teach the basic skills such as Cardio-pulmonary-respiration Training, Basic to Advanced Respiratory Care Training, and Specific Task Training Lab containing basic skills of various route of drug administration.
Advanced Skill Laboratory
High-fidelity simulators, such as breathing manikins with heart tones, lung sounds and tangible pulses which can be very well utilised for critical care training. The manikin also features a monitor that may show ECG, pulse oximeter, blood pressure, arterial wave forms, pulmonary artery wave forms, anaesthetic gases, ventilator and other data.
Name of the Training
Name of the Manikin
Cardio-pulmonary-resuscitation Training
CPR MANIKIN
 
BABY ANNE CPR MANIKIN
 
PALS TRAINING MANIKIN (HALF
 
ADULT CPR TRAINING MANIKIN
 
AED
Respiratory Care Training
CHOKING CHARLIE
 
NEONATAL INTUBATION TRAINER
 
PEDIATRIC INTUBATION TRAINER
 
AIRWAY MANAGEMENT TRAINER
 
CRICOID STICK TRAINER
 
TENSION PNEUMOTHORAX TRAINER
Specific Task training Lab
FEMALE MULTI VENOUS IV ARM KIT
 
ARM WITH IV PAD
 
BLOOD PRESSURE TRAINERS
 
CENTRAL VENOUS CATHETERIZATION SIMULATOR
 
ADVANCED NEONATAL PERIPHERAL AND CENTRAL VEIN INTUBATION MODEL
 
ADVANCED EPIDURAL AND LUMBER PUNCTURE
 
TRANSPARENT MALE URETHRAL CATHETERIZATION
 
TRANSPARENT FEMALE URETHRAL CATHETERIZATION
 
INTRAUTERINE DEVICE INSERTION
TRAINING
| | |
| --- | --- |
| Surgical Suture Dry And Wet Laboratory |   |
| Advanced Skill Laboratory |  ANATOMAGE |
|   | VIRTUAL HUMANATLAS |
|   | SIMMOM |
|   | SIMMAN 3G |
|   | LAP MENTOR |
|   | US MENTOR |
|   | HPS |
Courses :
Beside from regular simulation sessions integrated into undergraduate and postgraduate medical, nursing, ayurvedic and allied curriculum, as well as the Hospital Annual Training Programs of the paramedical staff, the center offers numerous courses to the healthcare community. We have regular courses as well as accredited courses.
The regular course includes: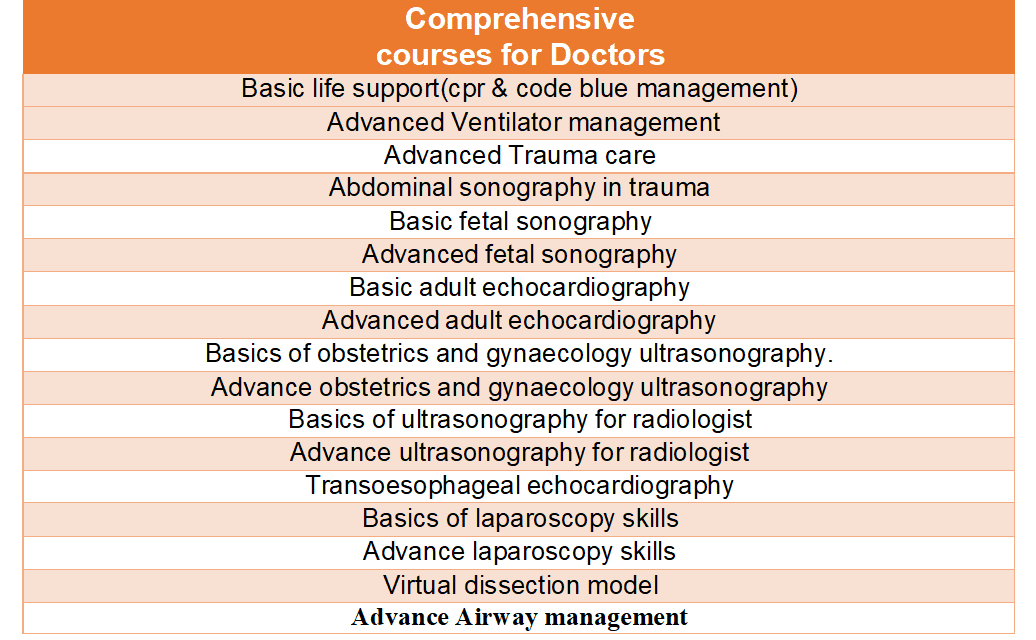 Comprehensive courses for Nurses & paramedic
Basic life support(cpr & code blue management)
Emergency nursing
Foundation of nursing
Essentials of nursing
Basic Ventilator management
Basic Trauma care
Virtual dissection model
Basic Airway management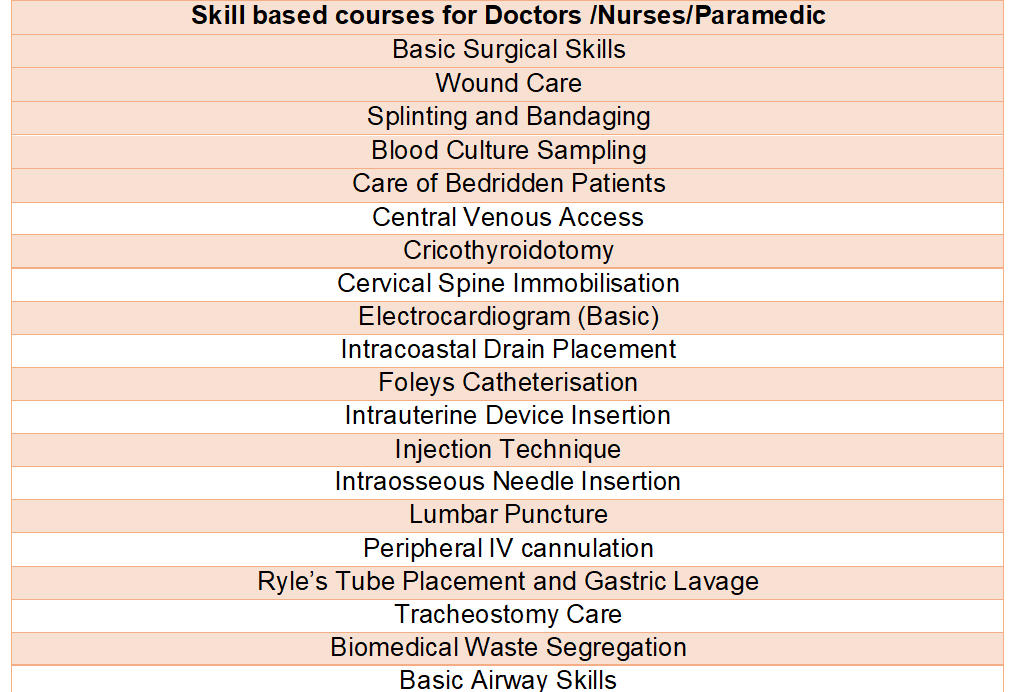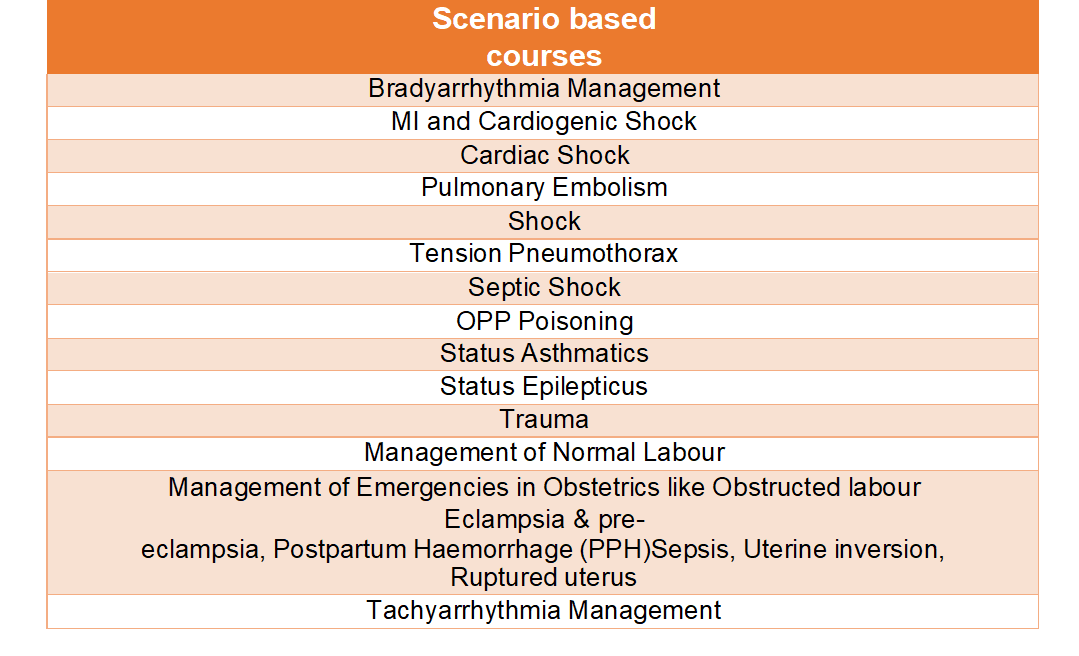 The Accredited course includes: