Preamble
During this era of globalisation, it's the need of the hour that the students be exposed to diverse cultures and are trained in technologies and skills that are seeked at the global market. Office of International Affairs at DMIHER(DU) acts as a bridge between the University and the international market by collaborating with various global players and opening opportunities for students and even faculty members to explore. It functions to identify the potential collaborators and establish short-term and long-term partnerships in the areas of academics, research, training, and services.
---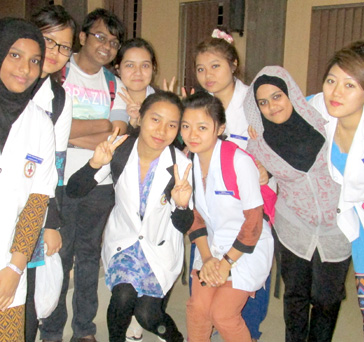 Overview
The International Office of DMIHER(DU) is responsible for International Students Recruitment & International Collaboration with various eminent global higher education institutions and research organisations and providing the best possible global exposure to the students. During this era of globalisation, it's the need of the hour that the students be exposed to diverse cultures and are trained in technologies and skills that are seeked at the global market, the IOA takes the onus of that for all the students of the University. The office is responsible for connecting with the universities and faculties from around the world and open up opportunities of learning. Moreover, it also takes care of mapping the skillsets and arranging the required trainings for the students to bridge the skill gap (if any) so that the students can make the best out of the experience.
---
---
Areas of Collaboration:
Global Academic Programs: Including Short value-added courses, Fellowships, Dual degrees, and Joint degrees.
Global Students Exchange Programs : both Incoming and outgoing students for electives, observer ships, Experiential learnings and cultural immersions.
Global Faculty Development Programs: Both incoming and outgoing faculties for Adjunct /Visiting Facultyship, higher skill training, medical technology training and Experiential gains/ Appropriate elevated position as Chair of a specific domain area
Global Services Programs: In the area of Health – Modern Medicine, Ayurveda, Dental, Nursing & Physiotherapy; Technology; Pharmacology; Management and other Allied Sciences, including propagation of SGDs.
Global Research Program: Joint Research Projects, Joint Publications, Joint IPR, Incubations/Startups and Technology Transfers
International Collaborations:
American Heart Association - International Training Center Agreement
College of Ayurveda (UK)
Wellness Soseaua Nordului Buchares
Craniofacial Tissue Regenreation Lab, National Dental Center of Singapore, Duke NUS Medical School
DEVEOLOPMENT INSTITUTE LLC (I4DI)
Erasmus +
FUNDACAO SRI VAJERA FOUNDATION
Global Consortium of Public Health Research (GCPHR)
Global Evidence Synthesis Initiative (GESI)
Grand Challenges, Canada
Indian Ocean Dental School and Hospital
Johns Hopkins University, USA - Wilmer Ophthalmological Institute
Kazan State Medical University, Russia
Liverpool John Moores University
Michigan State University, USA
National Association for the Promotion of Non-Conventional Medicines in Romania
AMN Romania
AYUSH Cell Romania
Nebraska Medicine, Omaha
OITA University, Faculty of Medicine, Japan
One Health
Portuguese Association of Ayurvedic Medicine
RAK Medical & Health Sciences University, UAE
SEMEY STATE MEDICAL UNIVERSITY, KAZAKHASTAN
Smile Train, New York, USA
The George Institute of Global Health, Australia INFORMUS Study
The University of Deusto
The University of Sydney, Australia
University of Shefield
University of Wollogong, Australia
Vanderbilt University - REDCap End User Liscence Agreement
Western Connecticut Health Network- Nuvance Health
WHO - Open Smart Register Platform
WHO - Project - Assessment of the food environment around young children
WORLD ORGANIC WELLNESS s.r.l.Romania
University of ST Mark and ST John (Plymouth Marjon University) UK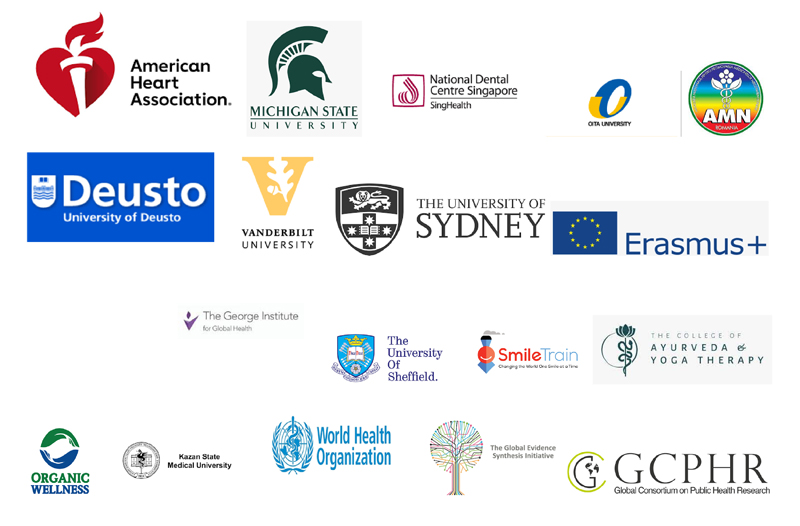 Students Intake from Countries: USA, Australia, Kingdom of Bahrain, Bangladesh, United Arab Emirates, Kuwait, Sultanate of Oman, Kingdom of Saudi Arabia, Qatar, Malaysia, Nigeria, Tanzania and Yemen
Members
S
N

Name
Designation
Email-Id

1.

Dr. Sandeep Shrivastava
Mentor
ceohospitals@gmail.com

2.

Dr Aditya Kekatpure
Asst Director, DMIHER Global
adityalkekatpure@gmail.com
Dr. Sandeep Shrivastava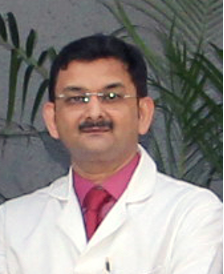 Mentor - Chief Scientific Officer, Mentor -DMIHER Global (Office of International Affairs).

Brief about Dr. Sandeep Shrivastava
He has contributed immensely to the field of Health Services and Medical Education. He is MS, DNB, in Orthopedic Surgery; PGM in Global leadership and PhD in Health Education.
Expertise in deformity correction, and have treated more than 5000 children for deformities through Limb reconstruction and lengthening.
Contributes to the Orthopedic Education by being Director-Professor in Orthopaedics, National and International Faculty in Ilizarov Workshops, Conduction of Indian Orthopaedic Association PG Courses etc.
Teacher of great repute with an experience of more than 25 years in medical education. He is the first in the country to have done PhD in Health Professional Education, in Quality Assurance.
Upright Medical Administrators and was appointed as Youngest DEAN of the Medical Institute at the age of 42 years.
Instrumental in Designing and Establishing E-learnings including the School of Virtual Learning at DMIHER.
Faculty to Regional Nodal Centre of National Medical Council, having participated in more than 50 faculty development workshops and courses.
Recognized BLS and ACLS Instructor by American Heart Association and teach the same to every type of learner in the society from Police cops to Intensivists.
Avid researcher & creative contributor, has scores of International Presentations across 18 countries, 76 publications in reputed Journals on varied topics including Lancet, 3 books, 16 copyrights, 1 Patent and inventor of "STARS therapy", which is a game changer therapy in wound management.
Hon. Faculty to two International fellowships in Regenerative Medicine and Pain Management
He has delivered 2 National Orations. He has been invited across the globe for keynote addresses on the same including the UK, USA, China, and Europe and propagates it further by continuous research and further development of solutions for all types of Wounds.
Has designed and conducted workshops on professional development in the field of Postgraduate Medical Education, Medical administration, Health professional development and Spirituality- Art of Dying.
He has won many awards including the Prestigious Rashtriya Chikatsa Sewa -Bhushan Samman award, Superhero 2022 for health care services, endorsed by Niti Ayog, Govt. of India; "Lords of Planet 2019-20" for serving the human race; Nagpur Health Care Award for his innovative Research Centre & Limb reconstruction work; and Lifetime achievement award for the research on Regenerative care for wounds.
He is associated with University for more than two decades and have worked across the faculty position to leadership positions as DEAN, CEO (Meghe Group of Hospitals), leading institutes to academic and service excellence.
Having spent almost two decades in rural India, at Wardha, Dr. Sandeep Shrivastava continues to work and render services in different capacities, committed hugely to the cause of upliftment of health for the underprivileged populace & creating a platform for "equal health opportunities" for all.